Cynthia Lummis Criticizes Biden-Proposed Bitcoin Mining Tax As 'Blatant Attempt' To Pick 'Winners And Losers'
Author: Mehab Qureshi | May 26, 2023 12:16am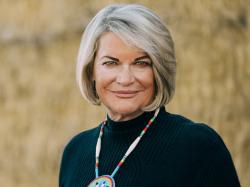 Sen. Cynthia Lummis (R-Wyo.)  has declared her opposition to President Joe Biden's proposed 30% excise tax on Bitcoin (CRYPTO: BTC) miners.
What Happened: Lummis on Thursday tweeted that the tax is a "blatant attempt by the administration to pick winners and losers," adding that she "will not let President Biden tax the digital asset industry out of existence."
Lummis on May 19, at the Bitcoin 2023 conference in Miami argued that the proposed excise tax was misguided and would serve only to harm the burgeoning cryptocurrency industry. She went on to emphasize the importance of creating a regulatory environment that fosters innovation rather than stifles it.
"Miners can mine anywhere," Lummis remarked, adding that opportunities exist all over the world. She noted that her state of Wyoming has been proactive in attracting Bitcoin miners, citing its favorable tax policies and blockchain legislation.
See More: A Stay At The Floating Palace From James Bond's 'Octopussy'
Why It Matters: The Biden administration's proposal for a 30% excise tax on cryptocurrency mining in the United States has generated controversy among advocates of the industry.
In early May, the administration released a report outlining the potential effects of the tax, which it argued would benefit American communities and the environment.
Price Action: At the time of writing, BTC was trading at $26,447, up 0.94% in the last 24 hours, according to Benzinga Pro.
Read More: Bitcoin, Ethereum, Dogecoin Rise Amid Positive Economic Data, Analyst Predicts Record High For King Crypto
Posted In: $BTC