US Condemns Russia's Nuclear Weapons Transfer to Belarus: 'Latest Example Of Irresponsible Behavior'
Author: Navdeep Yadav | May 25, 2023 11:54pm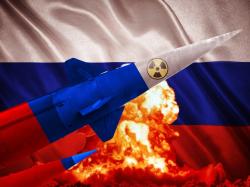 The U.S. on Thursday came down heavily on Russia for stationing tactical nuclear weapons in Belarus.
What Happened: U.S. State Department spokesperson Matthew Miller vehemently criticized the agreement between Russia and Belarus. However, he added that there were no indications that would require any changes to Washington's nuclear posture.
"It's the latest example of irresponsible behavior that we have seen from Russia since its full-scale invasion of Ukraine over a year ago," Miller said.
See Also: Russian PM To Xi Jinping: China Ties Strengthened By 'Sensational Pressure' From West
Miller reiterated the Biden administration's previous warning that the use of chemical, biological, or nuclear weapons in the Ukraine war would be met with "severe consequences."
"I will just add we have seen no reason to adjust our strategic nuclear posture or any indications that Russia is preparing to use a nuclear weapon," he added.
Why It Matters: In a significant move, Moscow on Thursday moved ahead with its plan to deploy tactical nuclear weapons in Minsk. Russian President Vladimir Putin announced the plan for the nuclear deployment in an interview with state media on March 25.
The Belarusian leader, Alexander Lukashenko, a staunch Putin ally, confirmed that the warheads were already in transit, marking the Kremlin's first deployment of such bombs beyond Russian borders since the 1991 fall of the Soviet Union.
Read Next: US Intelligence Reportedly Believes Ukrainians Carried Out Kremlin Drone Attack