GOP-Controlled House Approves Fentanyl Bill: Mandatory-Minimum Sentencing Repeats Drug War Mistakes, Say Opponents
Author: Maureen Meehan | May 25, 2023 08:24pm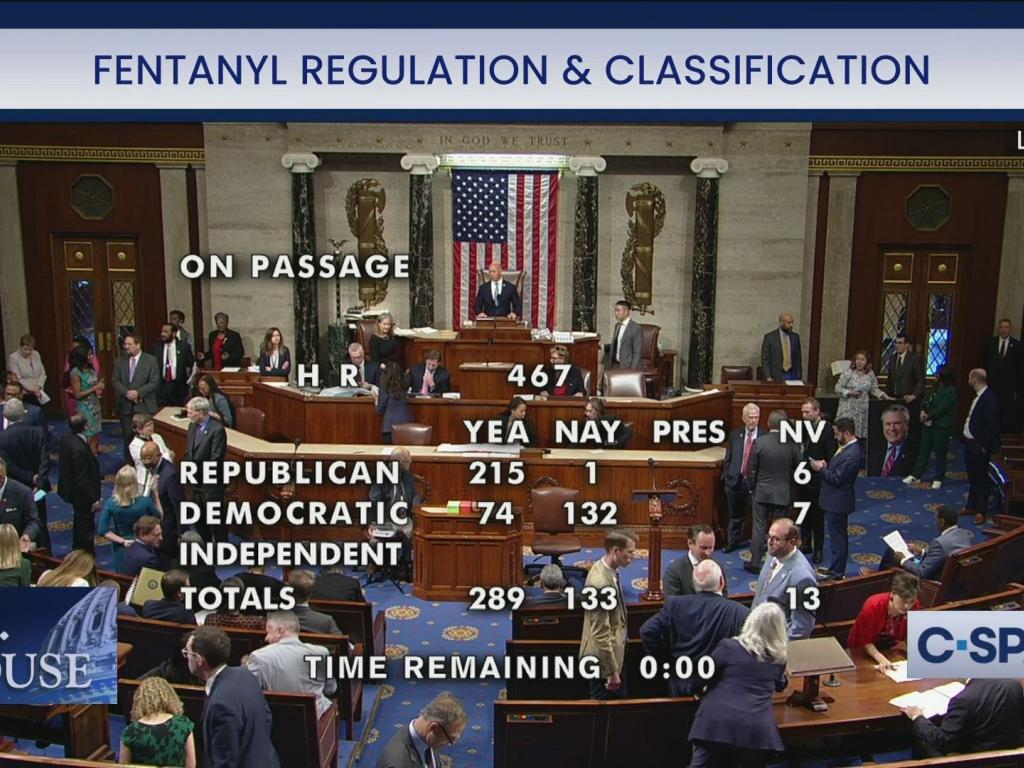 With the support of more than 70 Democrats, the Republican-controlled House of Representatives passed legislation that would permanently classify fentanyl analogs as Schedule I drugs and impose mandatory-minimum prison sentences on people found guilty of distributing the substances, an approach some critics are calling a return to failed drug war strategies.
"Despite the Biden Administration campaigning on a policy of ending Mandatory Minimums, the HALT Act does the opposite," Matt Sutton, director of public relation of Drug Policy Alliance (DPA) told Benzinga. "This bill will not only be incredibly detrimental to criminal justice reform efforts, but it will also exacerbate the overdose crisis and do nothing to further the public health solutions we urgently need."
Laura Pitter of Human Rights Watch, one of nearly 160 advocacy groups that signed a letter earlier this week imploring Congress to reject the HALT Fentanyl Act called the vote a recollection of the failed drug war. "It's sad to see lawmakers revert to over-criminalization once again when we have 50 years of evidence that the war on drugs has been an abject failure."
Rep. Frank Pallone (D-N.J.), agreed with civil rights groups during a floor debate. He warned that the measure represents an attempt to "incarcerate our way out of a public health crisis."
"This war on drugs—mandatory sentencing, incarcerate everybody—has not worked," Pallone said. "It didn't work on other drugs."
Lone Republican
Rep. Thomas Massie (R-KY), the only Republican who voted against the legislation agreed. "Instead of passing bills that expand the failed War on Drugs, we should be focusing on regaining operational control of the border," Massie said "Additionally, one-size-fits-all mandatory minimum sentences are unwise, and this bill increases the number of defendants subject to them."
The HALT Fentanyl Act seeks to cement a policy first enacted by the Trump administration, which temporarily classified fentanyl-related substances (FRS) as Schedule I drugs, a designation that lawmakers have since extended with Biden's support even as experts have stressed that not all fentanyl analogs are harmful.
Fentanyl itself is classified as a Schedule II drug, and it is often used in medical settings to treat severe pain.
Maritza Perez Medina, director of federal affairs at the DPA, urged the Senate to drop the bill. "Our communities deserve real health solutions to the overdose crisis, not political grandstanding that is going to cost us more lives."