RuPaul 420! Drag Queen Sasha Colby Dressed Up As A Joint And Launched Her Cannabis Kit
Author: El Planteo | March 18, 2023 12:30pm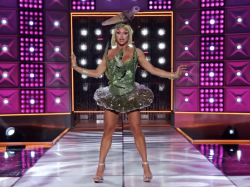 Lucía Tedesco via El Planteo.
Drag queen Sasha Colby recently appeared on RuPaul's show in a very unique look that clearly referenced marijuana. She wore a reefer hat and a dress, the skirt of which contained what appeared to be buds.
Una publicación compartida por

The artist was in the midst of launching the pre-sale of her cannabis kit and decided to dress for the occasion, with a design by Venus&Violet. The "Pakalolo Kit" contains a tray, a glass pipe and a chopper. The graphic art with those smoky letters on the kit was done by Kashton Kane, a Hawaiian designer.
Más Contenido de El Planteo: