Blood, Drugs And Tarantino: A Thrilling Journey Through Iconic Cinematic Masterpieces
Author: El Planteo | March 18, 2023 12:34pm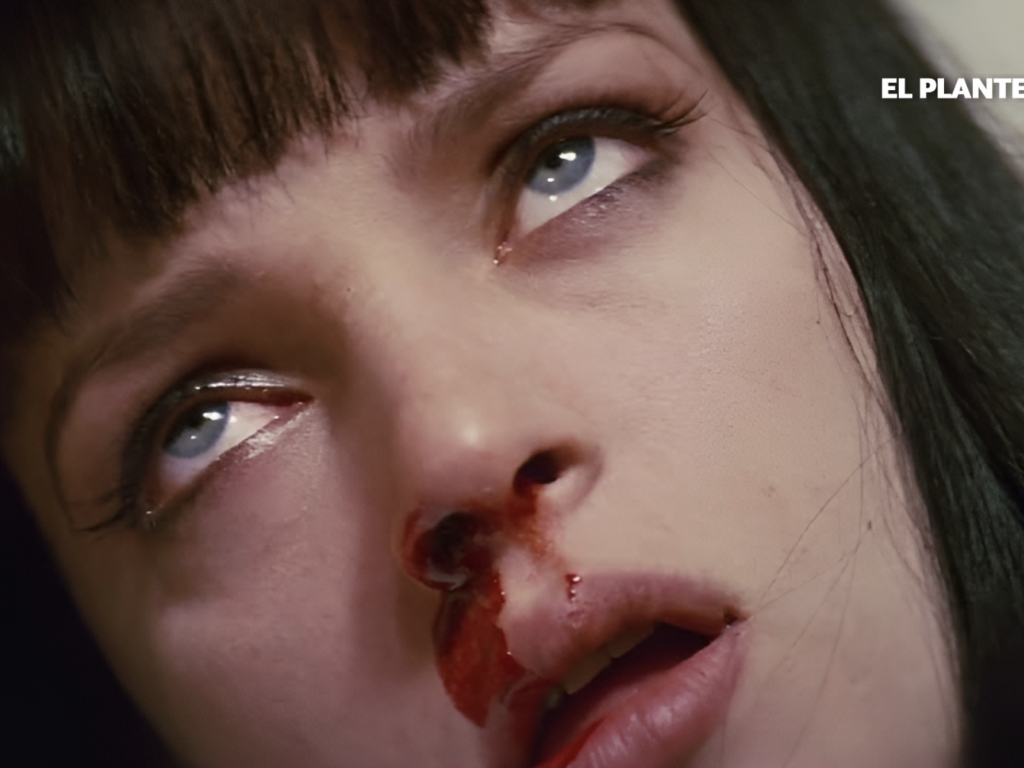 By Ulises Román Rodríguez via El Planteo.
Film director Quentin Jerome Tarantino is known for his unique style and controversial use of violence in his films.
With gallons of blood, memorable dialogue and outlandish characters, another recurring theme in his work is the use of drugs.
See also: Quentin Tarantino Is Selling 7 Uncut 'Pulp Fiction' Scenes As NFTs
The filmmaker - who will celebrate his 60th birthday on March 23 this year and will be honored by fans from all over the world - has shown drug use in his films in various ways and often uses the theme as a means to develop his characters and set a tone for the story.
Tarantino's first feature film, Reservoir Dogs (1992), featured characters smoking marijuana and talking about drugs while planning a robbery.
In Pulp Fiction (1994), John Travolta's character (Vincent Vega) is seen using cocaine and heroin.
There's also the unforgettable scene in which Mia Wallace (Uma Thurman) revives after a heroin overdose plays an important role in the film's plot.
In Death Proof (1997), Jungle Julia (Sydney Tamiia Poitier) discusses reefer with her cronies, uses cocaine and drinks to excess before being killed.
Drug use in Tarantino's films is not only present in the main characters but also in the supporting characters.
In Once Upon a Time in Hollywood (Once Upon a Time in Hollywood, 2019) Margot Robbie's character, Sharon Tate, smokes marijuana in a sensual way.
For this reason, El Planteo would like to join the tributes and go over Tarantino's films to tell you all about those scenes in which they use drugs: a recurring theme that has served him to develop the characters and set a tone for the story.
Tarantino And Drugs: Film By Film
Reservoir Dogs (1992)
Tarantino's first film has a special depiction of marijuana.
One of the scenes in which weed accompanies is when the characters meet in an apartment to plan a robbery.
At that moment, several characters are shown smoking marijuana while discussing the details of the plan.
Marijuana is presented as a means to relax the characters and help them concentrate on the task at hand.
Another cannabis scene is when Harvey Keitel's character, the team leader, Mr. White, meets Tim Roth's character, Mr. Orange, in a store after the failed robbery.
Both characters are smoking marijuana as they talk about what happened and the problems that have arisen.
Marijuana in Reservoir Dogs is presented as an everyday occurrence between the characters.
Pulp Fiction (1994)
Is Pulp Fiction one of the greatest films of all time? One of the most notable characteristics of the film is its use of drugs, especially cocaine and heroin.
See also: Quentin Tarantino Hit With Lawsuit Over 'Pulp Fiction' NFTs
One of the most memorable scenes in this work is the one in which John Travolta's character, Vincent Vega, buys heroin from a black dealer and then meets Mia Wallace (Uma Thurman) for dinner.
In this passage, Vincent uses cocaine before meeting Mia, suggesting that his behavior is impulsive and eccentric.
During dinner, Mia reveals that she has used heroin before and Vincent is shocked and disturbed by that fact.
The unforgettable moment is when Mia is brought to Vincent's house after overdosing on heroin, which she mistakenly snorts when she mistakes it for cocaine.
There, he performs a resuscitation on her in what will be a before and after for the development of the plot.
In addition, there are several dialogues in which drugs are mentioned: either cocaine, marijuana or heroin, which illustrate an environment of drug use in the subculture that is portrayed.
Jackie Brown (1997)
Samuel L. Jackson's character, Ordell Robbie, smokes marijuana on several occasions while planning to smuggle weapons.
The character complains that his girlfriend uses marijuana all day and clarifies that he only does it at night when he is done with work.
See also: Beyond Reefer Madness: Five Anti-Cannabis Films In The History Of Global Cinema
Another scene with marijuana is when Melanie (Bridget Fonda) smokes a pipe with Louis (Robert De Niro) who has just been released from prison and will start working with Ordell in the arms deal.
Kill Bill Vol. I and Vol. II (2003-2004)
Drug use does not play as important a role in the plot of these films as it does in other Tarantino films.
In Kill Bill: Volume 1, Uma Thurman's character, The Bride, smokes marijuana in a cabin while recovering from her injuries and planning her revenge.
In this case, marijuana helps her focus on her plan.
In Kill Bill: Volume 2, Michael Madsen's character, Budd, takes a break while smoking a joint in his house.
Death Proof (2007)
It is one of the two films that make up the Grindhouse series directed by Quentin Tarantino and Robert Rodriguez.
See also: Miss Representation: Why Mainstream Cinema And TV Are In Debt With Stoner Women
One of the first conversations in Death Proof consists of an argument between the girls, where Jungle Julia (Sydney Tamiia Poitier), the main character, complains that she is always the one who has to buy pot. Shortly after, as they get out of the car, another clear reference to marijuana can be seen in the background: a sign reading "Potheads".
Later, in one of the scenes, Julia consumes cocaine in a bar before being killed by Stuntman Mike (Kurt Russell).
That scene suggests that excessive substance use has affected Jungle Julia's judgment and put her in danger.
Overall, drug use in Death Proof is presented as a potentially dangerous problem for the characters and is used to create an atmosphere of tension and danger.
Inglourious Basterds (2009)
Inglourious Basterds may be Tarantino's "least stoner" film.
Lieutenant Aldo Raine, "The Apache" (Brad Pitt), is an officer originally from Tennessee who forms a team of eight Jewish American soldiers.
In one scene, Raine snorts tobacco as if it were some contemporary drug.
In another scene, Aldo Raine meets a group of German soldiers and offers them tobacco, suggesting that it is a form of bribery, although there is no mention of drug use.
Django Unchained (2012)
Jamie Foxx's character, Django, smokes marijuana on several occasions as he plots his revenge against the slave plantation owners.
See also: 7 Cannabis Documentaries Worth Watching, Whether You Love Or Hate Weed
The marijuana sets a relaxed and serene mood that Django needs to think without getting rapturous.
Another scene where drug use is mentioned is when Leonardo DiCaprio's character, Calvin Candie, an eccentric, impulsive and powerful man, takes cocaine.
The Hateful Eight (2015)

In this western there is no allusion to substance use. The characters smoke cigars and cigarettes but there is no direct reference to drugs.
What happened, Quentin? Didn't anyone do drugs in the Wild West?
Once Upon a Time in Hollywood (2019)
The film tells the story of Rick Dalton (Leonardo DiCaprio), a declining television actor, and his stunt double Cliff Booth (Brad Pitt), in 1960s Hollywood.
In one scene Rick and Cliff are at a party and some people are seen smoking marijuana.
In another passage, Cliff visits an old lady and is seen to be smoking a joint, but no direct consumption is seen in these scenes.
Marijuana is shown in the film as something accepted in the Hollywood culture of that time, in a way to set the story as when Margot Robbie's character, Sharon Tate, appears consuming marijuana and alcohol.
See also: Thanks To Weed, Every Cool Movie In The '90s Was A Stoner Movie
As for other substances, the film culminates with a scene (spoiler alert!) in which, after smoking a whole cigarette imbued with LSD, Brad Pitt goes on a rampage of blood and guts, bursting with laughter, thinking it's all a hallucination caused by the drug.
Más contenido de El Planteo en español:
Jennifer Lawrence: En Cuáles Películas Fuma Marihuana
Colin Hanks: Cannabis y Pañuelos Para Todxs, de Modelos a Mecánicos
Ouke: Esteban Lamothe Cuenta la Anécdota detrás del Tema de Ca7riel y Paco Amoroso