GE Stock Struggles To Find Direction Following Q4 Results, But CEO Larry Culp Says 'The Stage Is Set'
Author: Adam Eckert | January 24, 2023 06:19pm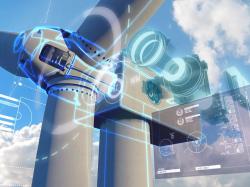 General Electric Company (NYSE:GE) shares traded lower on Tuesday before ultimately closing slightly higher after the company reported fourth-quarter earnings.
Here's a look at the results and what chairman and CEO Lawrence "Larry" Culp said following the report.
Q4 Results: General Electric said fourth-quarter revenue jumped 7% year-over-year to $21 billion, which missed average analyst estimates of $21.59 billion, according to Benzinga Pro.
The company reported quarterly adjusted earnings of $1.24 per share, which beat average estimates of $1.13 per share.
GE said it anticipated continuing earnings per share between $1.60 and $2.00 in 2023 versus estimates of $2.37. The company saw 2023 revenue growth in the high single-digits.
Related Link: General Electric Clocks 37% Jump In Q4 Profits, Saw Strong Demand For Commercial Engines, Wind Power Equipment
Culp's Commentary: Following the report, Culp highlighted some of GE's improving business segments during an interview on CNBC's "Squawk On The Street."
"The guide for 2023 that we initiated this morning is really a continuation of the momentum that we exited the fourth quarter with," Culp said.
He highlighted strong growth in the company's revenue, earnings and cash position. GE ended the quarter with $4.3 billion in free cash flow.
Culp told CNBC that GE expects 2023 to be a strong year for aerospace, in particular commercial aviation. Both Boeing Co (NYSE:BA) and Airbus SE (OTC:EADSY) are expected to ramp up deliveries this year, which should bode well for GE.
From Last Week: Boeing 737 Max Resumes Operation In China After 2019 Grounding
GE also expects to clear some of its backlog in its military business, so 2023 is shaping up to be a "very robust year" for the company's aerospace business.
"Everyone I talk to suggests there's tremendous pent-up demand ... China is really roaring back right now. We see departures at roughly 90% of 2019 levels," Culp said.
GE's renewables business was weak in 2022, but given the acceleration of the energy transition, "the stage is set," Culp said. Although it won't recover "overnight," he's confident that the company can execute and see improvements this year.
"We just need a little bit more time to, I think, show everybody that we will lead the energy transition," Culp emphasized.
GE Price Action: General Electric has a 52-week high of $81.18 and a 52-week low of $46.77.
GE shares closed Tuesday up 1.13% at $80.70, according to Benzinga Pro.
Photo: Courtesy of GE.